With the end of the year upon us, it is time to check-off a few very important tasks before it's too late.
It is definitely a busy time for many businesses and as an owner, you will have a lot to complete before December 31st. Here are some essential to-dos and some helpful suggestions to keep you on track to ring in the new year with proper business prep!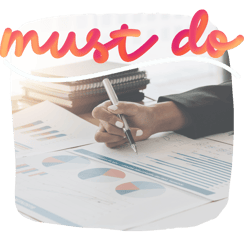 End of Year Reports

Two main reports you should run before the new year begins are the Accounting Summary and the Inventory On Hand Valuation reports. You will need to complete these reports before the end of the year as the data will reset with the change of the calendar year. All Envision Cloud users should be running these reports before year's end to ensure the most accurate data.

If these reports are not completed by the end of the year, you will not be able to access them after the 1st.

The Accounting Summary report is your go-to report for the end of year accounting document. Most accountants will find everything they need within this report. It is a detailed statement showing both profits and refunds per channel and will allow you to track your revenue and expenditures. This report will showcase the finances from the previous year.

The Inventory On Hand Valuation report allows you to perform your physical inventory with ease. This report gives you the opportunity to review your retail items left in stock for the end of the year. Pulling up this report on mobile or tablet will allow you to confirm the inventory in the database and in person quickly. Through this process, you can determine which products to keep around in the new year and which ones are wasting space on your shelves. You can go into the new year with the data you need for tax purposes and a better understanding of your retail strategy.

Please review other reports in the Business Analysis Reports section, to gather up any data you desire to review before the end of the year.
Additional Recommendations
Update HR information

Coming up on the end of the year is a good time to confirm your information for employee contacts and their payroll information. Additionally, it is an appropriate time to review any new hires or former employees and make sure their current status is reflected in your internal systems and software.
Review Previous Year's Goals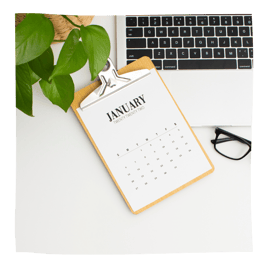 Time to study your previous budget and business plans. Evaluate their successes and shortcomings and determine how these results will impact next year's growth. A big portion of your goals typically include individual employee achievements. You can review employee goals through the Envision Cloud reports. Look over your data and see what changes you need to make and start outlining your new budget, marketing plan and overall goals for the new year.
Backup your Data

As the year comes to an end, all of your digital information needs to make it into the new year. It is a good time to backup your data from your business computer, tablets and phones.
---
It's time to get your business ready for the new year and set yourself up for success. Be sure to look over this checklist and get your to do list situated so you can celebrate the new year without business priorities hanging over your head. We will see you in the new year!